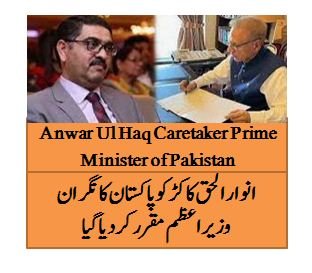 Anwar ul Haq Kakar prime minister shall assume the charge of the caretaker prime minister of Pakistan on 14th August this year. Last week the leader of the opposition in the National Assembly of Pakistan and the Prime Minister of Pakistan bilaterally agree in the name Senator Anwar Ul Haq Kakar prime minister as the care take prime minister of Pakistan for 90 days. At the end of five years tenure, the Govt increased the Petrol prices in Pakistan.
Table of content
Who is new caretaker prime minister of Pakistan?

Who is Anwar ul Haq Kakar?

Anwar ul haq kakar prime minister of Pakistan.
Read anwar ul haq kakar wikipedia
Anwar ul Haq Kakar history is that he belongs to the Province of Balochistan and is the senator of the current senate. The list of the caretaker prime ministers of Pakistan is very large because there are many caretaker prime ministers after the end of the tenure of the National Assembly. Mr. Anwar ul Haq family background is also from Balochistan. And Anwar ul haq Azad Kashmir. He also previously served as the spokesperson of the Govt of Balochistan from 2015 to 2017.
Who appoints caretaker in Pakistan?
As per the media sources, Anwar ul Haq Kakar prime minister belongs to Balochistan. Prime Minister of Pakistan Mr. Shahbaz Sharif and the Leader of the opposition Mr. Raja Riaz held a meeting on sturdy and finalized the name of Caretaker Prime Minister of Pakistan. All the political parties are demanding free and fair elections in Pakistan.
Anwar ul haq Kakar prime minister
| | |
| --- | --- |
| Caretaker PM | Anwar Ul Had Kakar |
| Political party | Balochistan Awami Party |
| Province | Balochistan |
| Tenure of Caretaker Setup | 90 Days only |
| Oath taking date | 14th August |
senator anwar ul haq Kakar party
The political party of Senator Anwar Ul Haq is Balochistan Awami Party (BAP). The caretaker cabinet will also take the oath on 14th August 2023 along with the oath of caretaker Prime Minister Anwar Ul Haq. The President of Pakistan Mr. Arif Alvi will take the oath from the caretaker cabinet and caretaker prime minister of Pakistan.
Senator Anwarul Haq Kakar named caretaker PM
The name Anwar ul Haq was given by the opposition and Pakistan People Party. All the political parties in Pakistan are hoping for the best to hold the general election free, fair, and in time. you need to know about Anwaar-ul-Haq Kakar that this is the prime responsibility to hold the election well in time with the collaboration of Election commission of Pakistan. Anwar ul Haq Kakar prime minister of Pakistan is taking this responsibility on Monday.