Jazz WhatsApp package monthly weekly daily codes
Jazz WhatsApp package monthly, weekly, and daily codes 2023. At this time Jazz is the leading telecom company in Pakistan providing telecom services since the 1990s. The company upgraded its packages from time to time. In this article, we have Jazz's monthly Whatsapp package details. If you are looking for the codes to set social media package for Whatsapp on your Jazz SIM then you are on the right plate form. Here in this article, you can also find the Zong Whatsapp package weekly, daily, and Monthly code for free. You can download the New Year Whatsapp status for free on this website www.iknews.pk. Check here the jazz WhatsApp package monthly rs 60 for free.
Jazz Monthly Packages 2023
Below are the all monthly packages of Jazz 4G. Choose your desired Jazz and Wardi 4G package according to your needs with a validity of package 30 days. Check the total subscription charges and package subscription codes of Jazz Warid's monthly Whatsapp package (all in one package).
Jazz monthly WhatsApp package Codes 2023
Here is the jazz WhatsApp package *247# Monthly, Daily, and Weekly Code, Details. Choose your favorite Jazz Whatsapp monthly package from the list below. Check also Telenor Whatsapp Package Daily, Monthly, Weekly Code Free.
Monthly Jazz Social plus Package for Rs.215 (balance)
Balance required=215 PKR
Subscription code *617#
Check the monthly WhatsApp package status dial *617*2#
Jazz monthly WhatsApp package validity for 30 days (1 month only)
After the expiry of the monthly Whatsapp package, you need to resubscribe from the package.
Data (10 GB Whatsapp+imo+facebook)
Jazz & Warid Mins 300
Other network minutes 50
SMS all network 300
2. Jazz Monthly Social Package code
Balance required PKR 148
Package subscription code=*661#
Unsubscription code=*661*4#
Status check code=*661*2#
Validity of Package (one month)
Jazz Minutes=00
7 GB (Whatsapp, IMO, and Facebook)
SMS 12000
Jazz WhatsApp package monthly 70 rupees
The Jazz Warid customers can avail monthly Whatsapp package for only Rs. 70. Dial *614# to subscribe to the monthly Whatsapp package for Rs.70 (Balance). 2000 SMS for all networks is also available in this Jazz Mahana bachat package for jazz Whatsapp numbers.
What is the process of the Jazz Whatsapp package monthly *247#
In this Whatsapp package, you can avail of 2GB Whatsapp data for only Rs. 9.99. This Whatsapp package is for 30 days. You need to dial *247# to avail this monthly offer.
Jazz Whatsapp package monthly Rs 60 activation
In this bundle, the company is offering 7GB Whatsapp and IMO data.
Balance=PKR60
Dial Code=*661#
Validity of Package 30 days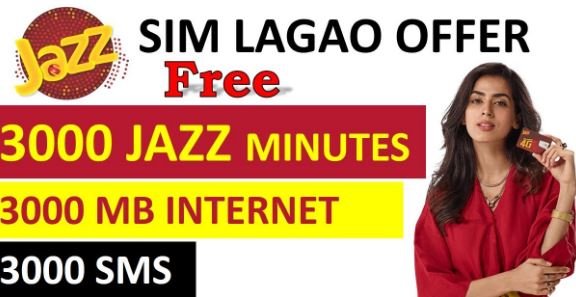 Activate cod for Jazz Sim Lagao Offers Free Whatsapp
If you have not used your Jazz Warid SIM for continuously approximately two months the company offers you a SIM lagao offer. If you want to avail SIM Lagao offer package on your SIM just dial *551#.
Get Jazz Mins 3000
SMS 3000
Other network mins 75
Data 06GB (3GB for Whatsapp only)
For the status of the package dial *553*2#
The package is valid for one month (30 days)
How to activate Jazz monthly social offer, Multan?
This is the cheapest social package offered by Jazz for Jazz Warid customers. It is all in one package. This offer is costs Rs. 67 only and you can get 2 GB Whatsapp data and free mins, SMS also included in this Jazz monthly offer.
How to avail of Jazz Daily Whatsapp package code?
Jazz offers you a daily Whatsapp package for Rs.7.2 only.
The offer activation code is *334#
10 MB Data for Whatsapp only
1800 SMS for 24 hours
Validity is 24 hours
Dial *334*2# to unsubscribe from this package
How to get Jazz WhatsApp Packages Weekly Code 2023?
Activation code *660#
Balance Rs.60
Validity 7 days
5GB data for IMO, Whatsapp and Facebook only
Dial *660*4# to Unsubscribe from the offer
How to subscribe Jazz WhatsApp Package Monthly?
Dial *101*1*02# for package activation
Get 5GB internet Data for Whatsapp, Facebook, IMO, and 12000 SMS
Package validity 30 days
Dial *101*4*02# to deactivate the package
Download the new year status for Whatsapp.
Mobilink is offering a lot of Jazz monthly, weekly, and daily codes at a low cost.
Jazz WhatsApp package monthly Rs 60 only.