Imam Kaaba, Makkah In his Friday sermon, Sheikh Abdul Rahman Al-Sudais stated that social media has bad impacts on society and that legislation to prohibit it is required.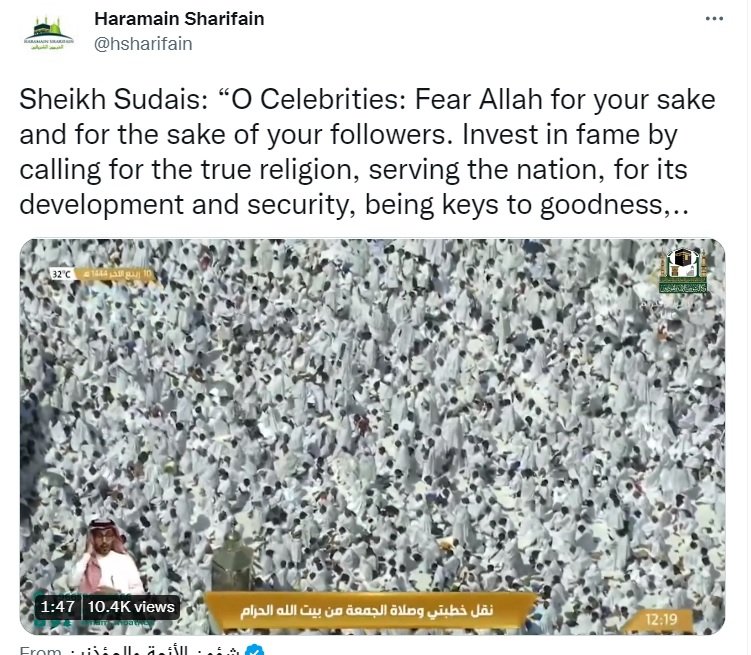 According to Arab media, Abdul Rahman Al Sudis, in the head of Haram Sharifain affairs, addressed well-known social media figures in his Friday sermon, saying that fear Allah and avoid little and silly things. Invite genuine religion, serve the nation, and promote goodness for the country's progress and security.
Sheikh Al Sudis went on to say that most superstars on social media do bizarre things for cheap fame. For successful education, it is critical to keep youngsters away from social media.
Imam Kaaba further mentioned that superstars on social media disclose their private lives, which causes their followers to compare themselves to them and feel deprived, which leads to a variety of problems, including enmity. are
Sheikh Abd al-Rahman Al Sudis also underlined the importance of countries enacting legislation to limit and control social media.
Sheikh Sudais: "O Celebrities: Fear Allah for your sake and for the sake of your followers. Invest in fame by calling for the true religion, serving the nation, for its development and security, being keys to goodness,..
pic.twitter.com/QTamngfyLl

— Haramain Sharifain (@hsharifain) November 4, 2022