CTI Jobs 2022-23 College Teacher Interns jobs 2022 in Punjab Government
Download application Form Last Date Apply Online
The Punjab higher education has announced the college teacher internship jobs 2022 in government boys and girls colleges. In this regard, College Education Department Punjab published an advertisement and is excited to receive the applications for Punjab CTI Jobs 2022-2023 College Teaching Interns Announces in HED punjab. These are boys and girls college Teaching Interns. The Government of Punjab for College Education Department is providing opportunities for unemployed youth in Punjab.
CTI jobs Lahore 2022
The young peoples in Punjab have a great opportunity to teach in government colleges. Applicants in the Lahore district can also apply for CTI jobs 2022 in Lahore. They can see the available vacant CTI jobs in Govt colleges 2022 of their nearby Govt. boys or girls' colleges' notification boards.
CTI jobs Rawalpindi 2022
The government of Punjab college education department has issued the upcoming CTI jobs 2022 advertisement pdf. These CTI jobs 2022 district wise purely for a specific time period of five months.
CTI jobs 2022 online apply
All the candidates who want to apply for CTI 2022 can submit their applications with the relevant documents. The applicants can visit them near Govt. College for CTI jobs 2022 list of colleges.
New 3650 CTI jobs 2022 Faisalabad
The CTI jobs Faisalabad 2022 were also announced for Faisalabad Govt. colleges. And there is no age limit for these vacant posts in CTI. The salary is 45000 per month for the selected candidates.
Qualifications and details of CTI jobs 2023 in punjab Govt colleges
The applicants should have a minimum master's education or BS/16 years of education or equivalent education in the relevant subjects
The education should be done from higher education-recognized institutions/universities.
MA/MSC minimum second division or BS 4 years
CTI Jobs 2022 Advertisement List of Colleges District Wise in punjab
CTI jobs 2022 list of colleges pdf download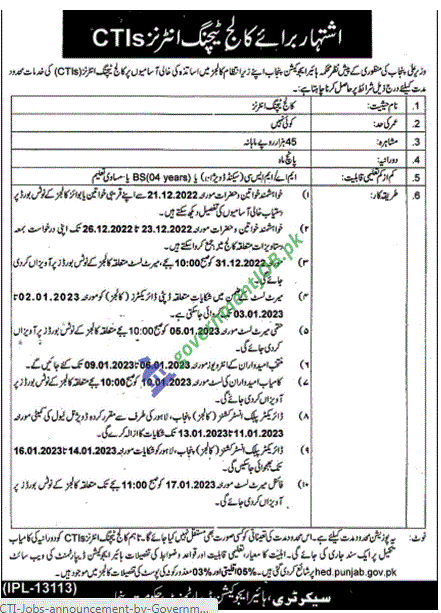 Age Limit:
The is no age limit for CTI 2022 jobs
CTI Internship 2022 duration:
These latest CTI jobs 2022 are nonrenewable, non-extendable, and non-transferable.
Five months of one academic year
Salary/Stipend:
The lump sum of Rs.45000 per month for CTI jobs
No allowance or any TADA is available.
How to download CTI Jobs Application 
CTI Jobs Schedule 2022 :
Suitable, energetic, well-qualified, and talented males and females can see available CTI jobs from the nearest Govt. Colleges.
The vacant CTI posts list will be on the notice board from 21st December 2022.
Desired applicants can submit the application along with the documents in the concerned colleges from 23 December 2022 to 26 December 2022.
The merit lists displays on 31 December 2022 at 10 AM on the college's notice boards.
The queries regarding the merit list should submit to the concerned deputy director from 02 January 2023 to 03 January 2023.
The final merit list will be pendent on 05 January 2023 at the concerned colleges' notice boards.
Selected candidates in the merit list should reach out for an interview on 06 January 2023 to 09 January 2023.
The successful candidate's list is present on notice boards.
The divisional level committee, constituted by the director of public instructions (colleges) Punjab resolve the queries from 11 January to 13.
And complaints can be sent to the director of public instruction colleges in Punjab Lahore from 14 January to 16 January 2023.
And the final merit list will be on 17 January 2023 at 10 AM on notice boards.
Visit hed.punjab.gov.pk cti jobs 2022
CTI (College Teacher Internship) Jobs 2022 – Punjab Government
How to apply for CTI jobs 2022
The applicants need to appear in interviews along with the relevant documents from their concerned colleges.
The College Teaching Interns' main job is to teach the intermediate classes for Govt. colleges for males and females in Punjab.
These posts are on a temporary basis; however, a certificate will be issued after the successful internship.
Visit the higher education department punjab official website HEC hed.punjab.gov.pk for terms and conditions.