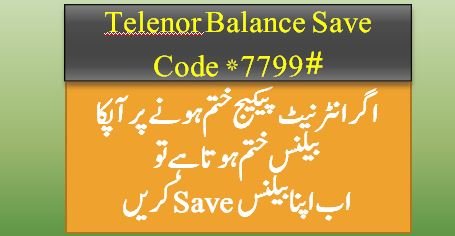 Telenor balance save code all network 2023
Telenor is the 2nd best cellular company in Pakistan. It is providing the best services to its customers. The Telenor company is providing 2G, 3G, and 4G internet services to its customers.
Telenor balance lock and unlock code
After reading this article you will be able to save the balance available on your SIM card. No one wants to use the internet at standard rates. So use the following steps to save the balance.
How to activate Telenor balance save code during using the internet
Some instructions will appear on your mobile screen
Follow these instructions
After that, you must check that the service is subscribed.
The basic aim of the very company is to provide the best quality services to its customers. Customers use the internet with a variety of internet packages provided by different companies.
Dial *7799# telenor balance save code
Sometimes customers forgot the exact date of the expiry of internet packages and continue internet browsing without a package. So when this happen the customer lost his balance. In this article, we will discuss the different codes to save the balance.
all sim balance save code 2023
telenor balance save karne ka tarika ye hai just dial *7799# to save balance. if you dial this code you will not lose your balance even after the end of your internet package.
Telenor balance save code charges 2023
The uses of the internet without packages are more expensive. Because companies charge at the standard rate when you use the internet without any package.
Telenor WhatsApp packages 2023
If you are looking for some social media packages like Whatsapp, Facebook, and IMO then you are on the right platform. Check here the best WhatsApp packages provided by Telenor. You can get a 5000 MB monthly Telenor WhatsApp package for just PKR 85 inclusive of all Govt. taxes. Dial *660# to activate the above WhatsApp package.