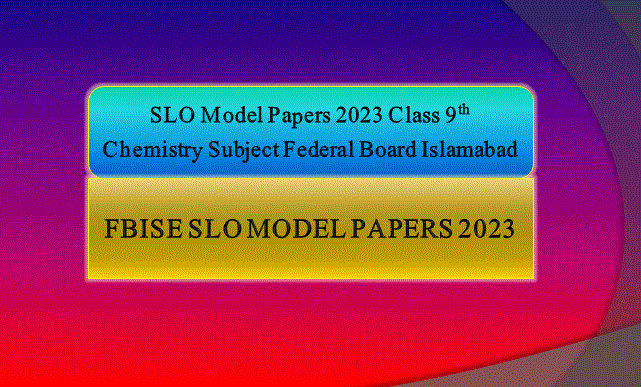 FBISE SLO model papers chemistry subject class 9th
The Federal Board of Intermediate and Secondary Education FBISE Islamabad has issued and announced officially a new pattern for the SSC 09th, 10th, 11th, and 12th class exams in 2023. The FBISE next year's exams are going to be held under the student learning outcome SLO-based syllabus. For this purpose, the federal board of intermediate and secondary education Islamabad has uploaded new SLO model papers 2023 for the 09th class chemistry subject. SLO matric model papers 2023 with questions and answers have been uploaded for each subject like 09th class Biology SLO model papers on its official web portal of FBISE Islamabad.
The SLO is a type of pattern that the FBISE introduced for the upcoming board exams subject-wise. In this regard, the federal board of intermediate and secondary education Islamabad got the attention of the students.
FBISE class 9th SLO model paper chemistry subject download PDF
The SLO model papers for Chemistry subject can be downloaded in PDF format. Click on the link below to download the 9th class SLO model paper chemistry subject or visit the official website through this official online portal www.fbise.edu.pk.
The Students of the 09th class science subject read this important announcement issued by the Federal Board of Intermediate and Secondary Education Islamabad (FBISE). it may help you to free download Fbise SLO Model Papers for every subject like physics, computer science, English, Arabic, Chemistry, Biology math, social study, Urdu, and Islamiyat model papers uploaded here in a very short time period.
How to download Fbise SLO Model Question Papers 2023
We have provided a link above to download the chemistry subject SLO model paper class 9. Just download and start your preparations for the upcoming FBISE exams 2023. visit www.fbise.edu.pk syllabus 2022.
How to download FBISE SLO model papers answers sheet
The students can also download the SLO model paper answer sheet  2023 against any subject like chemistry. please click on the link given below to download answer sheet PDF.
The board has introduced a new pattern of SLO-based model papers FBISE for the SSC part 1 & 2 exams 2023 and HSSC part 1 & 2 upcoming board exams 2023. SLO meaning is "student learning outcomes".
Islamabad board SLO-based model papers for part 1 annual examination 2023 have been uploaded for all subjects. All regular and private students need to appear in the SSC part 1 annual examination under a new pattern i.e student learning outcomes. The FBISE has divided the SSC SLO based model papers syllabus into the following three categories.
1. Short questions
2. Multiple-choice questions
3.    And long questions
FBISE SLO Model Papers 2023
The board has uploaded a fbise model paper 2022 class 9 federal board. The FBISE past appears can be pdf downloaded here.
model paper 2022 class 10 federal board
To download the Chemistry Subject model paper 2023 and past papers visit the official website. Students have to answer these questions on separate answer sheets provided by the board.
The board of intermediate and secondary education Islamabad has uploaded the FBISE model papers 2022 SLO based for all subjects like this:
FBISE SLO model papers 2023 Urdu
Islamabad board SLO question model papers 2023 English
Solved SLO model papers Chemistry 2023
FBISE SLO model paper 2022
Model paper class 10 federal board 2023
fbise model papers class 9 Computer science 2023
BISE Islamabad SLO model paper 2023 Physics
Islamabad board SLO model paper 2023 Bilogy
FBISE Federal Board SLO 11th, 12th Class Model Paper 2023
Download FBISE past papers and past guess papers on the link given belwo