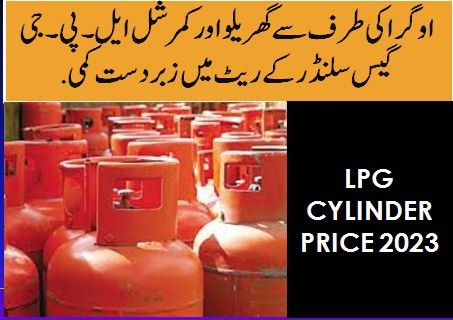 LPG price in Pakistan today 2023
LPG is a basic need of every person in Pakistan. People use LPG for cooking at their homes daily. The oil and gas regulatory authority Pakistan (OGRA) deals with the price fixation of LPG. The OGRA has reduces the price of both commercial and domestic LPG cylinders. OGRA issued a notification last week for a cut in LPG price in 2023.
OGRA Today LPG Price in Pakistan 2023
After a recent decrease in LPG price, the domestic 11.8 kg LPG cylinder is now available at PKR 2702. While commercial LPG cylinder price is now PKR 10397 in an open market. The decrease in LPG price is a relief because Karachi gas load shedding has become a severe problem nowadays.
12 kg gas cylinder price in Pakistan today
LPG 12kg cylinder price for commercial and domestic use from 1st April 2023. If you compare OGRA LPG price today with one year ago you see a huge price difference. Because previous year the same cylinder has cheap price than today. LPG 10 Kg gas cylinder price in Pakistan is now reduced by PKR 49 per KG.
OGRA LPG Price in Pakistan Today Per KG 2023
This huge difference is because of the import restrictions. LPG price today per KG of a commercial cylinder is almost out of control. If you want to download OGRA LPG price notification 2023 click on the link below.
LPG Gas Per KG Rate In Pakistan 2023
Karachi is already facing huge gas load-shedding problems nowadays. In this situation, you find LPG price in Karachi today also cut down by OGRA. The 15kg gas cylinder price in Pakistan is also decreased. This is a bit of relief for Karachi citizens in this gas load-shedding situation.
SSGC LPG Rate in Pakistan March 2023
Before that, the 11.8kg domestic LPG gas cylinder price was PKR 3278. While commercial LPG gas cylinders cost PKR 12611. OGRA has decreased LPG gas cylinder price by Rs 49 per KG.
Govt Slashes LPG Prices 2023
In a notification issued by OGRA, the price of LPG liquified petroleum gas has been cut down by Rs.49 per KG. The new price of the LPG cylinder is available in the notification. The LPG OGRA notification is given below.
Govt reduces LPG price April
The govt reduces LPG cylinder prices as per the OGRA notification 2023. The new rate effect from 1st April 2023 to further orders. Meanwhile, Govt maintains diesel and petrol prices at the same rate. But on the other hand, Govt decides to decrease the rate of Kerosen oil by PKR 10. And the price of light diesel is also low by Rs. 10. These fuel rates are valid till the 15th of April.
Download OGRA LPG notification