NADRA Pak identity app online registration
The National database and registration authority NADRA has launches PAK- ID mobile application. This is good news for Pakistani citizens that NADRA has launched an online mobile application to get a new ID card. Now citizens need not visit NADRA offices for their new ID cards and renewal of ID cards.
Apply online for your national ID card
NADRA introduced a new online mobile application to apply online for a new ID card. now you can apply for a new ID card at your fingertips using the NADRA Pak ID mobile application. NADRA named this new mobile application "Pak ID". Read more about NADRA jobs 2023.
Table of content
How to apply for a NADRA ID card online apply?
Does NADRA have an app?
How to register online for NADRA Pak ID mobile app 2023?
What does NADRA stand for?
What is the name of the NADRA online mobile application?
How to apply for an ID card through NADRA Pak id mobile app online?
How to register for a NADRA Pak ID card online
There are only three easy steps to apply for your CNIC online and Nadra id card check online tracking.
Click on the register tab to register your account
Provide your personal information online like name, father's name, and Email
Step three is for verification of your email and mobile number etc.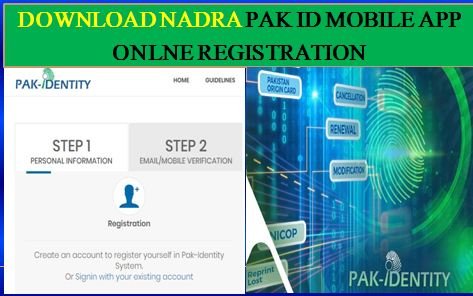 NADRA online apply ID card
The interior ministry Govt of Pakistan has taken that step to provide the maximum facility. This step is taken to minimize the rush at NADRA offices and to decrease the burden on NADRA offices. We see people spend a lot of time in NADRA offices to get their ID cards. NADRA makes this process easier and time-saving.
NADRA ID card check online
Through this app, you can do many other things like submit your online documents and ID card related. As per the official statement by NADRA, you can apply for an ID card from anywhere using NADRA Pak ID mobile app.
NADRA online CNIC renewal
Using this new mobile app facility to provide fingerprints for ID cards is also available. This app also has a QR code. Chairman NADRA asked people to give their suggestions regarding the Pak ID mobile application 2023.
Pak identity registration
You have to visit id.nadra.gov.pk login or click on the link given below to download and register the Pak ID mobile app. All the processes like fingerprints, submission of documents, and biometric verification are also available.
How to download NADRA Pak ID mobile application
You need an android mobile.
Go to google play store.
Download NADRA Pak ID mobile app.
Install this Nadra online mobile application and register your account.